DataVault™ Web Reporting Solution

"The best solution available for AHCA data reporting!"

Developed in accordance with the new AHCA XML Schema Rule Changes of the Florida Administrative Code, Chapter 59B-9, the DataVault™ system offers a unique and flexible solution that will make your quarterly AHCA reporting as effortless and worry-free as possible.
Our DataVault™ system is a secure web site that allows for manual entry (or import) of ambulatory patient visit records, and produces an XML file per the latest AHCA reporting requirements. The DataVault™ keeps all your records in a centrally located database that is accessible from any computer you have connected to the Internet.
Here are some of the key advantages of our web-based DataVault™ system:
No Installation Hassle: No desktop installation or configuration needed. All you need is a web browser.

Location Independence: You can access your data from any computer that has a connection to the Internet (even from home).

Identification of Failing Records: By coloring them red, our system provides immediate visual identification of all records that are failing.

Multiple Users: You can have up to five user accounts created so that several staff members can enter information simultaneously, if needed.

Transparent Updates: We update everything centrally on our web site. This allows us to react instantly to AHCA Rule changes.

Import Capabilities: The system supports a comma-delimted text file or AHCA XML import. Custom programmed import bridges are also available to meet your needs.

256-bit Data Protection: HIPAA compliant, SSL Certificate based 256-bit encryption.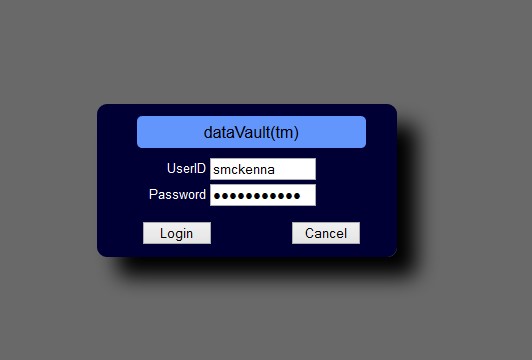 Dashboard:
Displays live Statistics & Totals for the Quarter you are working on
Easy to Navigate; Provides hyperlink access to all the core functions of the system right from the Dashboard.
Reminds you of the AHCA Deadline Dates, and how many days are left until the deadline.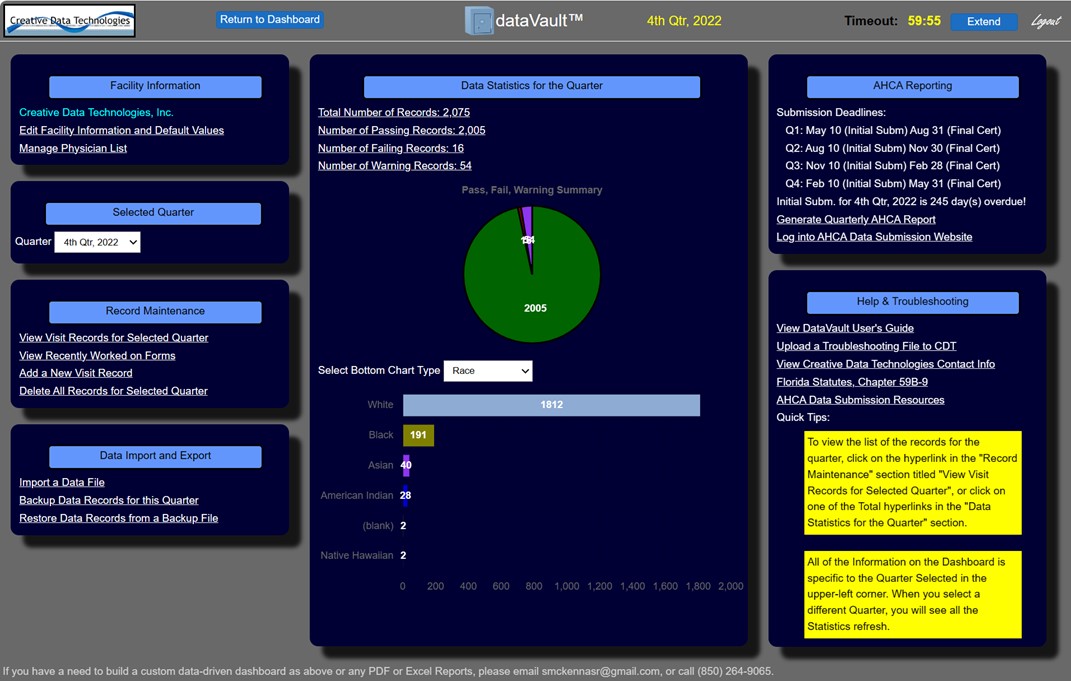 Data Visualization:
Displays live updating Graphs & Charts displaying Pass/Fail Summary, Race, Sex, Ethnicity, Hour of Arrival, Insurance, and Doctors:

Pass/Fail Chart: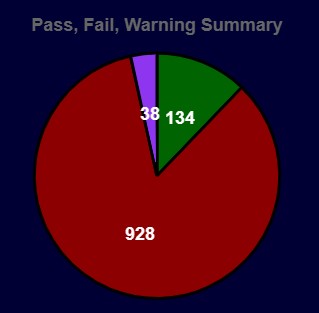 Race Chart: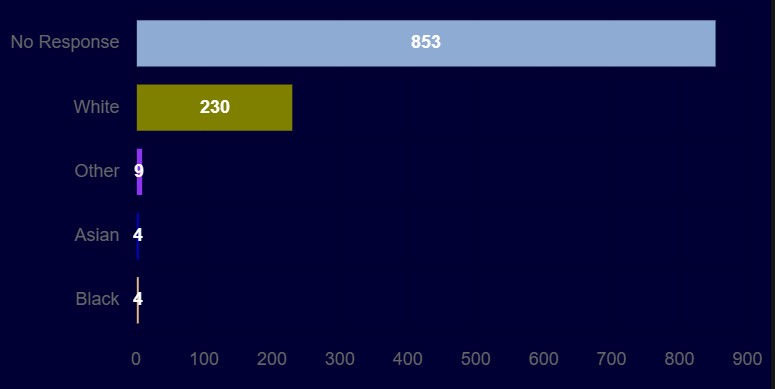 Sex Chart: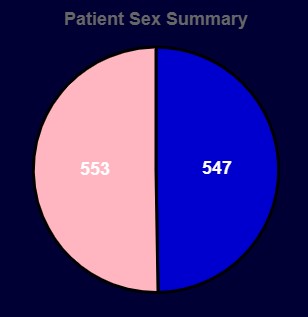 Ethnicity Chart: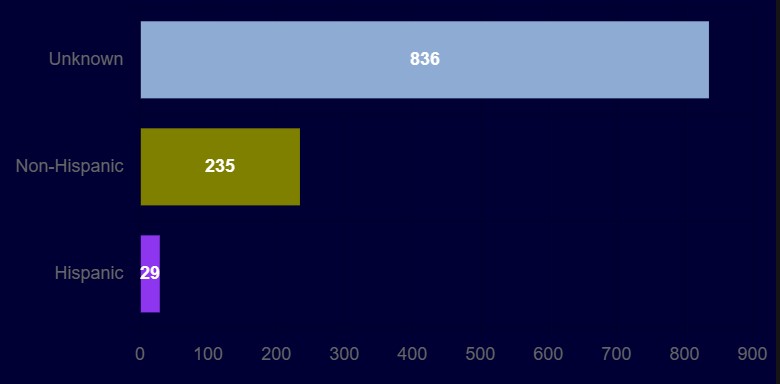 Hour of Arrival Chart: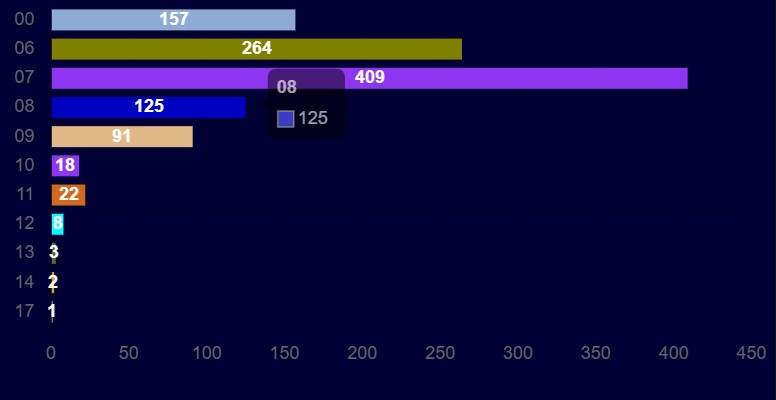 Insurance Chart: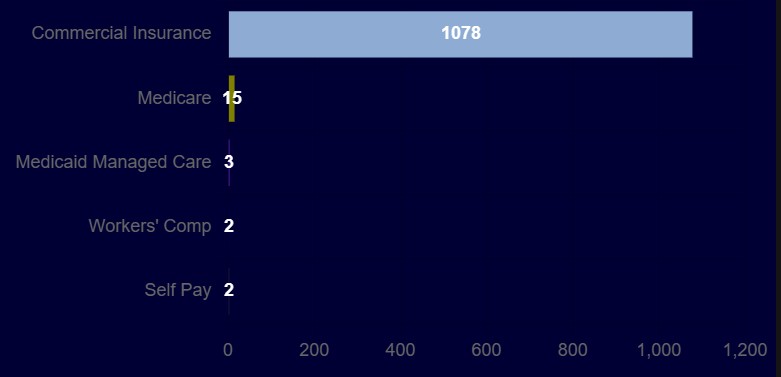 Doctor Chart: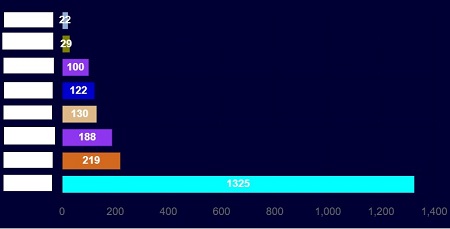 Visit Record Management:
Lets you manage all of your visit records in one place, while focusing your work on a single calendar quarter at a time.
Visually identifies the failing records in red.
Allows you to search and filter by SSN, Record ID, or Record Status (Pass/Fail).
Allows forward and reverse sorting by any column.
Supports Exporting list to Excel for offline Analysis.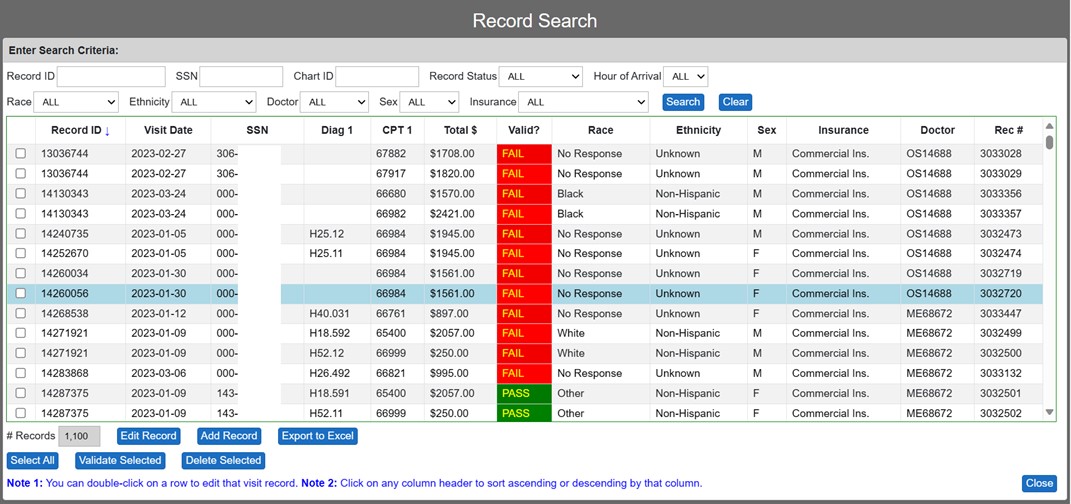 Visit Record Editor:
Geared toward high speed keyboard entry while performing edit checks as you enter your data. You can find out immediately if there are any failing fields before you even save your record.
Background color changes to red or yellow for each individual field that is either failing or has a warning associated with it. Pop-up yellow help messages tell you exactly what the problem is with each rejected field. Very user friendly!
You can enter the records manually from scratch using the web site, or you can import your data from another system, then use the DataVault™ system to scan the data for failures and correct the failing records, then generate your XML data file for AHCA.
Divided into three tab pages: Patient Visit Information, Diagnosis & Procedures, and Charges.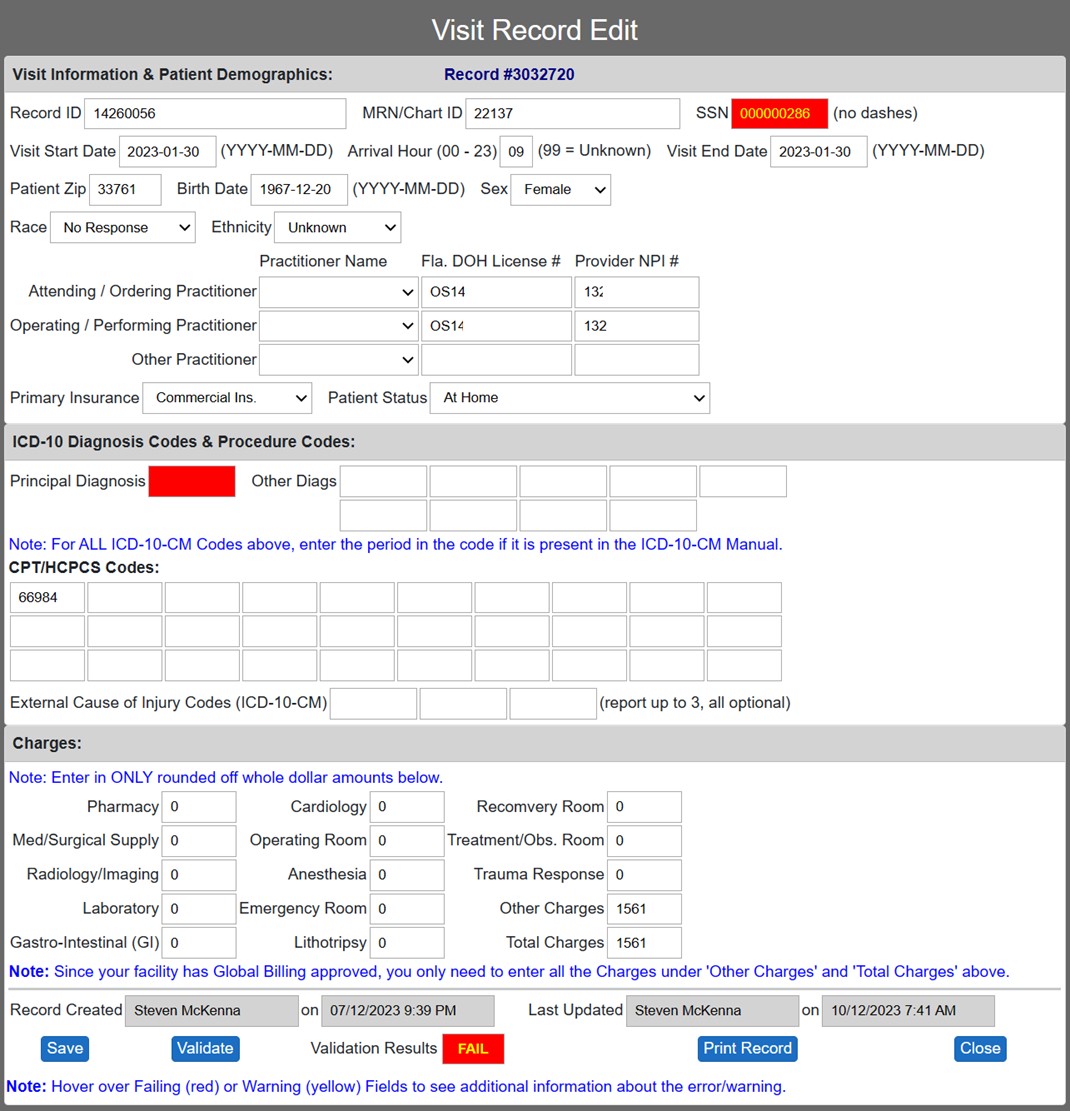 Feature Rich:
You can configure default values for many repetitive fields to save time when entering your visit records.
Enter a list of all the physicians at your facility, and a drop-down will be populated to make it easier to select the physician when entering your records.
Powerful import and export capabilities built in. Custom import programming also available upon request.
Ability to back all of your data records up to a file that you can download and keep (we are also performing full daily backups of everyone's data).
Time-saving window to gain quick access to the Visit Records that you recently worked on: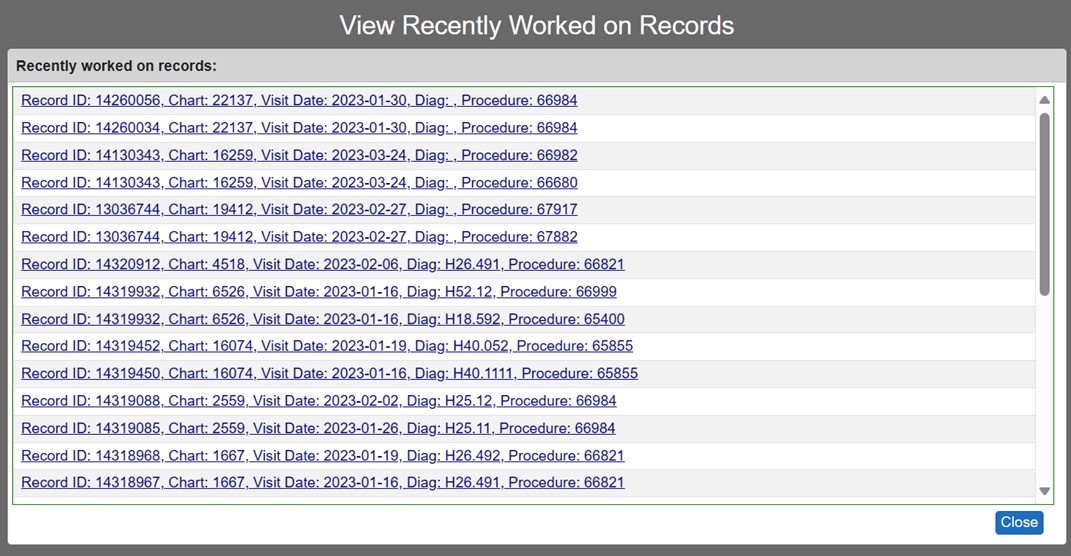 Our program saves our customers many hours each quarter when reporting their data. It instantly marks each visit record as either passing, warning or failing, and paints the failing fields with a red background. With its filter windows, you can easily navigate and correct your data before submittal to AHCA. This avoids the frustration of having your data rejected by AHCA over and over until you get it right, and having to pay potential fines of up to $1000 per day if you are late filing.
Click here to download or view the DataVault™ User's Manual.
Technical support is promptly available by email or telephone. You will be placed on our email distribution list and notified of any critical updates made to the system. The Support area of our web site is also available for questions and solutions.
References from our current customers are available upon request.
The cost of the DataVault™ web site service is $2495*. Annual Technical Support Subscription fees are $950, and the first year is included in the purchase price of $2495. To enroll in the DataVault™ service, or to obtain more information, simply call us at (850) 264-9065, or email us at smckennasr@gmail.com.

* Hospital Emergency Rooms please call for special pricing based on volume.